THE CLINIC
Founded by Dr. Eugene Cheung, Crown Dental Studio is a boutique clinic offering bespoke dental aesthetics. Fusing the principles of design with professional expertise, the clinic is dedicated to crafting elevated dental experiences with a focus on personalization and quality.
Our Services
Comprehensive Hygiene Therapy

Routine check-up and cleaning
Individualized preventative care
Deep cleaning
Dental Essentials

White fillings
Porcelain crowns and bridges
Root canal treatments
Implant treatments
Aesthetic Care

Tooth whitening
Porcelain veneers
Aligner orthodontics
Jaw Pain Management

Appliance therapy
Bite equilibrations
Sleep Apnea Therapy

Bite appliances
Anti-snoring devices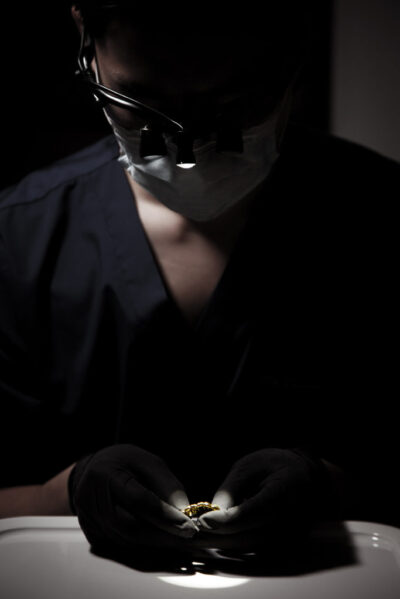 THE DENTIST
Dr. Eugene Cheung received his Bachelor of Dental Surgery from The University of Hong Kong in 2010 and completed a Masters degree in Conservative Dentistry at University College London. With a deep appreciation for clean design, Dr. Eugene is passionate about crafting your ideal smile aesthetics with a minimally invasive approach. With a professional interest in the use of porcelain restorations, he regularly attends continuing education courses in Hong Kong and overseas. Known for his easy-going demeanor and amiable personality, Dr. Eugene believes in fostering trusting relationships with each of his patients. He is currently an Honorary Clinical Assistant Professor at HKU and the team dentist for The Hong Kong Rugby Union.
THE SURGEON
Dr Karen Lai graduated in 2012 with a Bachelor in Dental Surgery. Immediately following graduation she was employed as a hospital resident in the department of Oral Maxillofacial Surgery at the University of Hong Kong. She went on to complete her specialty training in between Queen Mary Hospital and Prince Philip Dental Hospital, earning her the title of Specialist in Oral Maxillofacial Surgery in 2019. Her typical work involves removing impacted wisdom teeth, treating jaw joint disorders, jaw bone pathologies, oral lesions and oral facial cosmetic procedures (Botox).
THE HYGIENIST
Nora Ng received her dental hygiene training from George Brown College in Toronto. Prior to joining our practice, she had the experience of working as a dental hygienist at a rehab institution and in public healthcare in Canada. Nora strives to make every dental visit a positive one by listening to patients' concerns, performing thorough hygiene treatments and teaching each patient how they can achieve their optimal dental health. During her spare time, Nora participates in many dragon boat races with her team, as well as painting and traveling.